About Ascona
"Ascona International Corp." is based and registered in Manila, Philippines and is sourcing its Products from suppliers in Asia and Europe as well as locally from the Philippines.
We are also specialized in developing and sourcing specialty products according to clients' requirements and specifications.
We service country wide all major Retail Chains, Hotels, Restaurants, Airline Caterings, and Institutional Food Manufacturing Companies.
Trading goods consist of mainly – but not limited to – frozen Asian breads, Snacks and Buns, IQF Fruit and Vegetables and functional beverages.
Company Vision
To be the most preferred and trusted supplier of excellent quality imported and local products for its institutional/food service, Retail, and other consumer markets.
Company Mission
To its customers
To supply excellent quality products that meet the needs of its customers at reasonable prices
To its suppliers
To jointly develop and continuously improve products for its Customers on exclusive and long-term basis
To its employees
To provide its employees with a working environment where they can grow professionally and financially with the company.
To the community
To provide employment to the community where it operates an to do its fair share in caring for the environment and being socially responsible
Ascona's founding Partners and Senior Management Team are very close to the Culinary World and it's Food Professionals from Hotels, Retail, and Institutional Food Manufacturers.
As such we understand their needs, demands and expectations when it comes to product offering and quality expectations.
Almost 100% of our Products are Halal Certified – which enables us access to a much wider client base – particularly in the southern part of the Country.
Our Kawan branded Asian Specialty breads, Buns and Snacks are the best in quality and authenticity of its kind in the frozen food section. They are suitable for Vegetarians and Vegans and are 100% HALAL.
It is with intention and purpose – that we are specialized in sourcing and dealing with IQF (Individual Quick Frozen) fruits and vegetables among other products.
From a nutritional point of view –frozen fruits and vegetables are often superior to the so called "fresh" fruits and veggies you'll find in supermarkets.
Usually, fresh vegetables travel hundreds or thousands of kilometers from farm to grocery.
It takes several days from harvest, cleaning, transport to the city, deliver to supermarkets until finally displayed for some time on the shelf.
It is a fact that from the minute a fruit or vegetable is harvested – the nutritional value starting to decline already. Take into consideration the length of journey to the shelf of your supermarket, plus the time you store it in your own house – the nutritional value could be close to zero.
In contrast – frozen vegetables and fruits are picked when they are on the peak of ripeness, then processed immediate at the source and being frozen in a "blast freezer" which takes only minutes – with the result of maximum nutrients being locked in!
For more information on this topic click here – curtesy of Dr. Ledia Mati 
Even Looking from the angle of convenience, frozen fruits and vegetables offer many advantages as well, in particular in the food industry and professional kitchens.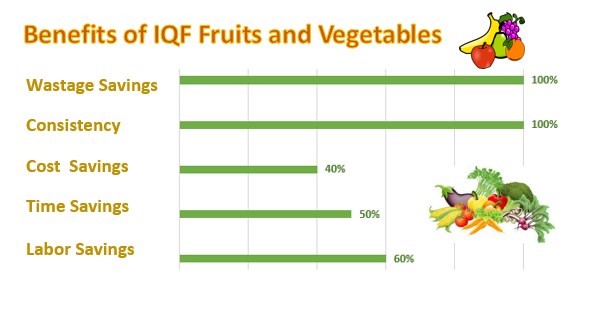 We deliver via Lalamove within Metro Manila.
Order cut off
14.00h (Mon to Fri) for next day delivery
12.00h (Sat) for delivery Monday